Friday, November 14, 2008
What to do about Sibling Rivalry

In the upcoming month, Kid#3, a boy, is going to pop out of The Wife's womb and bless us with sleepless nights, dirty diapers, and another mouth to feed.

But what has kept me awake this night is the thought that Kid#2, my first son, who can't even form a complete sentence yet, will soon have a baby brother ... hence my seldom participation in my own blog the past 2 years. In fact, my two sons will have the exact difference in age that me and my older brother have, namely 1 and 3/4 years apart. (It's eerie how that worked out, especially since each of our 3 kids, girl, boy, boy, have been unplanned and completely random).

The problem with all of this is that my older brother and I fought since my earliest memories. Supposedly he really took good care of me when I was a toddler and we were watching Saturday morning cartoons together, but I don't have the faintest recollection of that. All I remember is that I wanted to beat my older brother at E V E R Y T H I N G. Grades, sports, popularity, money, college choice ... you name it.

Coincidentally, our father also had a bad relationship with his older brother, and he always wanted better for my brother and I. Nice try, Dad. It certainly didn't work out that way.

So how do I keep the same thing from happening with my two sons?

I thought about calling my brother up and asking him what went wrong, but I wouldn't exactly be endearing myself to him by waking him up after midnight. Not that I've made a habit of endearing myself to him my whole life. And vice versa.

Friday, July 27, 2007
Ticket Email
Here is the email that I received regarding delivery of my season tickets:
You are receiving a shipment from:
USC Ticket Office
That requires a delivery signature. Your shipment is addressed to:
USCsuperFan
11 National Championship Way
Troy, CA
For your convenience, to have your package left at your doorstep or with a next door neighbor 1) Print out email 2) Sign and date where indicated 3) Provide neighbors address 4) Tape to your front door. No phone call or other communication is needed.
I authorize my shipment to be left:______________________________Date_________
Neighbor's Address ______________________
If you will not be at this address and would like your shipment routed to another location please respond to this e-mail with the full delivery address (including phone number).
I Just Got My Season Tickets!
To everybody who hasn't received their's, all I can say is:

Ha Ha Ha Ha Ha Ha Ha Ha Ha Ha Ha Ha Ha Ha Ha!

(I wanted to go with "Nana Nana Nana" but I wasn't sure how to write that old schoolyard taunt, and my kids' Mexican Grandmother is "Nana" so that made it uncomfortable to me)

Actually, I lied. I only got the email. That means at some point in the next few days I have to show up at my house, and pretend/be forced to spend time with the family in order to be present when the delivery guy takes his sweet ass time showing up.

Ok, I lied again. I love my family and spend as much time with them as I can possible stand to. Even if I make up elaborate excuses just to get away. The more I think about it, the more I'm jonesing to watch "The Great Escape" again.

Friday, July 20, 2007
Wow, Has Time Jost Flown By
My wife and I just had our second child, My Boy!, in March. Blog, I'm so sorry I put family first and abandoned you these many months. I won't let it happen again.


My Boy! was born 1 1/2 weeks early, weighed 7 lbs 7 oz, and was 21 inches long. He's now 4 months old and completely off the growth chart for height. Looks like my tall genes have won out over The Wife's short ones.

Most guys project their sons to be a Middle Linebacker when they grow up. I think My Boy! projects as a 5 Star hard-hitting Safety in USC's 2025 Recruiting Class. Of course, this will be Pete Carroll' s best recruiting class ever. And yes, he will be jacked about it.

Thursday, February 08, 2007
Breathe Wrong and a Shooting Foul will be Called
Ucla
beat
USC
last night 70-65 in Men's Basketball last night, largely thanks to a discrepancy in free throw shooting in the amount of 31-5. What this means is that the game officials determined that a
USC
player was fouled in the act of shooting just twice in a span of 40 minutes of basketball.
Twice.
Two.
2.
How this happened, I have no idea.
USC
attempted 52 field goals in the game, and had 13 turnovers that may or may not have been the result of non-calls. That's roughly 65 times down the court, and only twice did a shooting foul call go
USC's
way. It would be interesting to find out how the
Pac
10 Office of Officiating could explain this. Compounding this problem was
Lod
Stewart's technical as a result of anger after a
teammate
was called for a foul. Usually technicals are assessed on the player who complains about a foul they are personally charged with. Rarely does a teammate complain about another teammate being charged a foul. Unless it was bullshit. And the whole night was full of it.
Quick analysis:
Ucla
attempted 13 free throws in the last 1:12 of the game as a result of
USC's
intentional-end-of-the-game fouling strategy.
USC
attempted 0 free throws in this time. Therefore the meaningful discrepancy is 18 to 5. If
USC
had 13 more free throw attempts at a (measly) 60.0% FT shooting percentage, it would have resulted in 7-8 points.
To go a step further, had the free throw attempts been equal, USC might have been leading 62-59 with 1:12 left in the game, and Ucla would have had to foul. USC may or may not have hit their foul shots to secure the win, like Ucla did do (to their credit). Still, it would have been nice to not have officials factor so heavily into a loss.
Wednesday, February 07, 2007
It's Signing Day!
It's a very exciting time in the world of college football: National Letter of Intent Day.

A big Fight On! to RB Joe McKnight for having the courage to ignore hometown pressure in Louisianna and travel across the country to play at the University of Southern California. Same to RB Broderick Green for reaffirming his earlier commitment to leave the State of Arkansas to go to USC.

And an even bigger Fight On! to recruits like LB Chris Galippo, RB Marc Tyler, DE Everson Griffen and LB/FB Jordan Campbell who committed early and devoted themselves to convincing their peers to join them at USC.

The excitement about Pete Carroll's program is infectious. I'm jacked up right now! Maybe I'll go tackle my boss ...

Friday, February 02, 2007
More Reggie
My personal theory about what actually happened in the "Reggie Bush Situation":
LaMarr
Griffin (Reggie Bush's
stepdad
) knew Lloyd Lake (the felon) because they grew up in the same neighborhood. At some point, Lake and Griffin get together and Griffin says starting a agency would be a good idea - even though nobody involved knows what the hell they are doing. So Lake says he knows a guy named Michael
Michaels
who has resources (because he invests in Real Estate and is a member of a Tribe that runs Indian Casinos). So these bumbling idiots try to start an agency and fail, because they can't get extra funding from a San Diego-area Indian Tribe, and their job offers get turned down by real, NFL-certified, agents. They have a sports marketing company in name only. If they ever employed an actual agent, they would have called it an agency instead. No employees. No office. No company transactions. Then Lake does something stupid and goes to prison. Reggie and the Griffins decide they can't mess around, and go with a top-notch agent. Instead of these clowns - who could never get to the point where they could have represented Reggie anyway.
So Lake cries foul and starts making wild accusations to Yahoo! Sports, grossly overestimating money owed to him. Griffin says, hey these were personal loans between friends (credit card debt and housing situation), not part of a failed business venture. Lake says his money is always business and threatens to sue. The Griffins and Bush say it is extortion and call the Feds to investigate. Lake/
Michaels
threatens to keep tarnishing Bush reputation until he pays up. Then at some point Lake and
Micheals
find out that if they call any loans are business and not personal, jeopardizing Bush's NCAA eligibility, then they could go to jail for violating the state's Agent Law.
Michaels
was always more of a financial investor, doesn't want to go to jail, hires his own attorney and separates himself from Lake.
So now it seems they just want a lower settlement, and are still using Yahoo! Sports to pressure Bush. Yahoo! Sports is overjoyed at continuing to be puppets for a convicted felon's attempts to extort money from Bush and ruin his reputation. Bush and the Griffins maybe are listening to offers, or maybe they are telling Lake's attorney and Micheals' attorney to perform an anatomically-impossible sexual act.
Thursday, February 01, 2007
WeAreSC.com
As some of you may know, I spend a considerable amount of time over at WeAreSC.com's football message board. However, recently the Scout.com network determined that a switch had to be made and the old EzBoard site that I have grown to love over the years had to die off.

I'm feeling very nostalgic about the old football message board. It's not that I fear change, or that I want to elicit a spanking from female posters Kitana and uscvball (this is what they are threatening posters with who refuse to move over to the new board - Well, everybody but me, probably because I don't flirt with them since I actually encourage The Wife to read what I post on the message boards). I just like this old site, and I'm sad to see it go.

Since I started posting over 3 years ago, alot of good posters have come and gone, and alot of good threads have come and gone.

Many memories have gone too. It won't be long before there is a new bunch of posters who don't even remember the old system.

Tuesday, January 30, 2007
Lamenting Professional Sports
I think there are 3 significant problems with most professional sports:

1. Salary caps
2. Extended seasons
3. Boredom

1. Parity blows. People prefer dominant teams. The Yankees, Lakers, 49ers, Cowboys, etc. You either love them or love to hate them.

2. Too many teams playing too many games. The quality is watered down, and all the seasons run into each other forcing you to chose between following one sport or the other.

3. Baseball has too many pitching changes, and takes too long between pitches. Games should last 2 1/2 hours, not 4 1/2 hours. Football and basketball games have too many timeouts called at the end of a game. 4 minutes of game clock can take 45 minutes, killing what should be the most exciting part of the game. I often get bored and change the channel instead of watching all the commercials.

Friday, January 26, 2007
AP Poll and Coaches Poll
How would the NCAA convince two private organizations, the AP Poll and the Coaches Poll, to take away the 2004 National Title from
USC
?
Supposing that the NCAA made
USC
"not recognize" the Poll outcomes, the final voting in the 2004 Polls would still remain the same. They can't simply go back in time and vote a new #1.
While nothing is out of the realm of possibility, the talk of stripping Reggie of the Heisman and
USC
of the 2004 NC is ridiculous. These private organizations cannot be forced to do anything.
So what we could end up with is no title for
USC
and no Heisman for Reggie (after they break into his home to retrieve it?), but the acknowledgement that
USC
was voted #1 by both polls in 2004 and Reggie Bush was named the Best College Football Player in 2004 (but we stopped recognizing factual history)?
Have any of these "Yahoos" ever actually stopped to think what losing a NC or a Heisman would like, since it has never happened before (probably should not ever happen), and time travel is not possible?
Thursday, January 25, 2007
I Like My Daughter Better When She's Sick
I have what is commonly referred to as a "High Need Child". She is also described as "Spirited", "Challenging" and good
ol'fashioned
"Hyperactive".
Unfortunately (or fortunately, depending on how you look at it), she was ill on Monday, which included having a fever and some vomiting. However, she was the absolute perfect child that day. She was calm and affectionate. She listened to directions. She didn't get into any trouble or break anything. All she wanted to do was be loved and comforted by The Wife and I. We were happy to
oblige
.
As far as I am concerned, it was a great day.
Reggie's Ride
I said it before, and I'll say it again. The reason why I don't like these allegations is because Yahoo! Sports alleges that Reggie was given money to buy a car.

Did he get a big black brand-new SUV tricked out Lebron James style like Adrian Peterson, Maurice Clarrett, and DeShaun Foster were driving? No.

Reggie got a 10-year-old, used up, Chevy sedan.

Compared to other stories of players getting cars, this sounds like small potatoes. So does that make the allegation that much more believable because the gift was modest? Or does it look like someone (Lloyd Lake, Yahoo!, or both) are really out to get Reggie?

I know one thing for sure: I wouldn't risk my Heisman Trophy for some crappy used car.

Yahoo! Slings More Poo
I won't dignify Yahoo! Sports crappy, low-brow, damn the facts full speed ahead reporting style by posting the whole article, so here is a link to their newest installment in the The Official Reggie Bush Witch Hunt:
The Bush Tapes
Wednesday, January 24, 2007
Staying
LB Keith Rivers - Announced he would return for his Senior season.
Assistant Head Coach & QB Coach Steve
Sarkisian
- Turned down the Head Coaching position with the Oakland Raiders, elevated to
USC's
Offensive Coordinator by Pete Carroll.
DT
Walker Lee Ashley - Wanted to transfer but is currently still at
USC
.
EDIT: Has completed a transfer to the University of Minnesota. (Per 2/4/07 Scout.com story)
FB
Brandon Hancock - Preliminary reports say that his petition to the NCAA for a 6
th
year of eligibility was granted (due to medical issues). Brandon is awaiting his surgeon's clearance though.
RB Chauncey Washington, OT Sam Baker, DT Sedrick Ellis, DE Lawrence Jackson and QB John David Booty will all return for their Senior seasons.
Going
EDIT: S Antwine Perez - transferred to the University of Maryland.
DE Jeff Schweiger - transferred to San Jose St.
WR Dwayne Jarrett - Declared early for NFL Draft.
P Taylor Odegard - Has quit football to focus on academics and a future non-football career.
K Troy Van Blarcom - Academically ineligible and kicked out of school for failure to maintain a sufficient overall GPA.
Offensive Coordinator Lane Kiffin - Hired as Head Coach of the NFL's Oakland Raiders, thereby becoming the personal bitch of Owner Al Davis, Jr.
K Mario Danelo - Tragedy.
Friday, January 19, 2007
Big & Physical = Fat & Slow
Back to the Rose Bowl.

Was it such a shock that USC thoroughly dismantled Michigan, a team which some experts thought was worthy of a rematch with Ohio State in Glendale, Arizona? Not really.

This is a simple rule to live by: In the Pete Carroll era, any current opponent or possible future opponent that is described as "Big and Physical" by its fans and/or the so-called experts, simply translates to "Fat and Slow".

Michigan, Oklahoma, Iowa ... I'm talking to you.

I'm Going Home to Beat The Wife and Kids
I'm just kidding. I'm going home to give them gentle encouragement.
When I was working at one particular construction project, after any difficult day the
superintendent
would joke that he was going home to beat the wife and kids, or he was going home to take it out on the wife and kids, or some other variation.
This only comes to mind because California Assemblywoman Sally
Lieber
is in the news for drafting legislation to
outlaw the spanking of children
under the age of four in the State of California.
From my understanding, if you spank your children, you had better not leave a mark (bruising) or you are going to jail. And I think that is a good rule to live by.
However, what you see now is more mental abuse by parents than physical abuse, because of the laws already in place on physical abuse. Would should have more laws on mental abuse of children, and leave the physical abuse laws as they are.
Furthermore, in my humble opinion, part of the gang problem we have is that new immigrants from other countries come here and they are used to beating the hell out of their kids to install authority over them. ***If anybody thinks I'm wrong, then ask anyone with Mexican heritage who's 30 and over about "The
Chankla
"*** We tell these parents from other cultures that the physical abuse of children is wrong, and the parents don't know how to raise a child without doing it. So they don't discipline their children, the children get out of control, and it leads to criminal activity later in life.
While the aforementioned "beating the hell out of your children" approach does not guarantee that you will have well-behaved children, I find it interesting that adults who were rowdy, out-of-control, and spanked as children are firm believers in corporal punishment.
Friday, January 12, 2007
More Jarrett
These photos represent Jarrett's legacy at USC. Especially "4th and 9", one of the greatest moments in USC history.
Bye, Bye "Ocho"
Dwayne Jarrett has decided to leave USC
a year early and enter the NFL Draft. Good luck in the league, Ocho. Personally, I wonder if he is making a mistake coming out early since he may be taken after Wide Reciever Calvin Johnson of Georgia Tech, and Tedd Ginn Jr. of Ohio St. (if he leaves early). Even crazier things could happen, like Jeff Samardzija of Notre Dame, Robert Meachem of Tennessee, or Sidney Rice of South Carolina also being taken ahead of Jarrett.
It is interesting to note that
ESPN's Mel Kiper
has Ocho at #14 on his
Big Board
, after Johnson and Samardzija. Even more interersting is that CB Leon Hall is listed four spots ahead of Jarrett after Jarrett torched him and the Michigan secondary for 205 yards and 2 TD's.
Draft predictions aside, Dwayne Jarrett was the best Wide Reciever in College Football last year and the year before. I could understand the argument of Calvin Johnson being better, but even while injured Jarrett was never shut out in a game last year.
Fight On! to a great Trojan, Dwayne Jarrett. Ocho.
While his announcement to go pro was expected, it still breaks the hearts of the Trojan Family. This is the same Trojan Family who chanted "One more year! One more year!" when Jarrett received his trophy for being the Offensive Player of the Game in the Rose Bowl against Michigan. However, Ocho did even more to endear himself to Trojan Fans everywhere when he shed real, sincere tears during his press conference to go pro. (Photos courtesy of
WeAreSC.com
)
Thursday, January 11, 2007
The Overrated Chant is Overrated
So there I was in Rose Bowl enjoying my team's dominating win over Michigan in the 4
th
quarter, when the crowd around me starts the "Overrated Chant". I first tried to motion to my section (in a subtle throat slashing gesture) to cut that crap out. Once the chant had died down, I chastised the crowd around me by saying, "Michigan is not overrated. Michigan is good. We are just THAT much better."
I did not get much of a reaction, except from one possibly intoxicated female fan sitting a row above me. She seemed to be getting more friendly with me as the game wore on, so she was probably biased. The Wife was absolutely not worried. In a strange way, that makes me kinda sad.
Back to the topic: NEVER, ever diminish your win. The better your opponent is, the more
impressive
the victory over them. A
fanbase
should never start the Overrated Chant if they are
accustomed
to winning. And winning is something that
USC
does very well.
Tuesday, January 09, 2007
USC finishes at #4
The
USC
Trojans finished the 2006 season, a rebuilding year, ranked No. 4 in both the
AP and Coaches Polls
.
Why not No. 2?
Is it because the Rose Bowl was more of a distant memory (all of a week ago) than
LSU
beating the snot out of ND (as expected) or Florida beating the snot out of Ohio State (not expected)? Either way, it doesn't really matter. When you are not No. 1, a Top 5 finish is all that anybody remembers, or keeps track of.
2007 Rose Bowl Champions sounds pretty damn good to me.
Monday, January 08, 2007
R.I.P. Mario Danelo
Mario Danelo
(Born July 3, 1985 – Died January 6, 2007)
USC Place Kicker Mario Danelo's body was found was found by a passer-by on January 6, 2007 in San Pedro, California at the bottom of the 120 foot tall White Point Cliff near Point Fermin Lighthouse.
His death has shocked the Trojan Family.
(Note the above photos were "borrowed" from Joe Andras of WeAreSC.com)
Rose Bowl Montage
Best Rose Bowl Recap
The best Rose Bowl recap belongs to a favorite writer/commentator of mine, Ivan Maisel of ESPN.
PASADENA, Calif. -- One drive into the third quarter of the 93rd Rose Bowl, Michigan had made it clear to USC that it would not be able to move the ball on the ground. The Wolverines had limited the Trojans to 19 yards on 15 carries.
Big mistake. Once USC abandoned the run, Michigan never had a chance.
"We're talking on the headsets," offensive coordinator Lane Kiffin said of his conversation with quarterbacks coach Steve Sarkisian. "We said, 'We're not running the ball another play.'"
On the next 30 plays over five possessions, quarterback John David Booty threw 28 passes. The other two snaps? Quarterback sneaks for first downs.
The rest was history -- and so were the Wolverines. Those five possessions produced four touchdown passes and a field goal, and the No. 8 Trojans (11-2) pulled away to a 32-18 victory over the No. 3 Wolverines (11-2).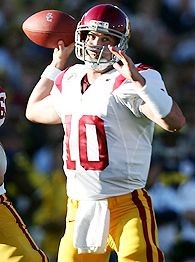 Harry How/Getty Images
John David Booty found Dwayne Jarrett in the end zone for two of his four touchdown passes.
Booty finished with 391 yards and the four scores, completing 27 of 45 attempts. Rarely have such big numbers belonged to an assistant. The guy who applied the paddles to the Trojans' chest, Dwayne Jarrett, did so by stretching the Wolverines' secondary beyond its vertical limit.
The 6-foot-4, 215-pound Jarrett not only caught 11 passes for 205 yards and two touchdowns but also made Michigan cornerbacks Leon Hall and Morgan Trent look as if they belonged on the USC scout team. That's saying something, since Hall made many All-America teams and finished the regular season as a Thorpe Award finalist.
Jarrett surpassed Keary Colbert to become the Trojans' all-time leading receiver (216 catches) in what might have been his last college game. He is expected to leave early for the NFL. As ESPN anchor Chris Fowler interviewed the Offensive Player of the Game, the Trojans' fans chanted, "One more year! One more year!"
Jarrett sounded as if he had one foot on the April stage with NFL commissioner Roger Goodell.
"I've been here three years. I've had great success here," Jarrett said. "It's not definite. There's nothing written in stone. I'll go back home with my family, talk about it, get all the facts and try to make the best decision."
In other words, so long.
"Dwayne had an absolute memorable night," USC coach Pete Carroll said.
Not to give short shrift to the Trojans' defense, which sacked Wolverines quarterback Chad Henne six times, forced two turnovers and limited tailback Mike Hart to a season-low 47 yards. But the game changed when USC changed its offense.
The Trojans scored only one touchdown on this same field a month ago in their 13-9 loss to UCLA. The first half against Michigan ended in a 3-3 tie. Once Kiffin and Sarkisian cut loose, the Trojans found their rhythm, thanks largely to Jarrett. The junior, who struggled with injuries over the first half of the season, finished with a career best in yards and tied his career best in catches.
Jarrett had an advantage of three inches and 31 pounds on Trent, and five inches and 22 pounds on Hall. He also proved he knows how to use his hands to get open, and to catch the ball once he does.
"If you don't have perfect position on him, he's going to catch it. That's all there is to it," Trent said.
Trent didn't have perfect position on him very often. Jarrett said the Wolverines had "a little bit of a weakness" in the secondary. He didn't use "weakness" and Trent in the same sentence, but later Jarrett said, "The times he was on me, we tried to exploit it for big plays."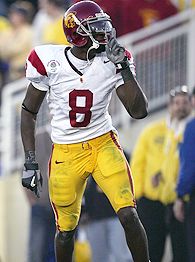 Harry How/Getty Images
Dwayne Jarrett's Rose Bowl performance sent his NFL draft stock soaring.
Take that first touchdown drive. Trent bit on a jab step by Jarrett, who then cut inside and caught a 25-yard pass at the Michigan 2. That set up Booty's first touchdown pass on the next play to Chris McFoy.
Jarrett beat Trent again on the next possession, shaking off his tackle and taking Booty's quick pass 22 yards for a touchdown to increase the lead to 16-3 (Mario Danelo missed the extra point, the first of his two misses).
Jarrett saved his best for the fourth quarter. Michigan had closed the lead to 19-11 with a snappy eight-play, 80-yard drive. On third-and-10 from the USC 38, Jarrett simply sprinted past Hall and safety Willis Barringer. He caught a strike from Booty near the Michigan 25, slipped out of a diving Hall's desperate grasp and glided into the end zone for a 62-yard touchdown.
Barringer, speaking on behalf of frustrated Wolverines everywhere, laid a hit on Jarrett three or four steps into the end zone, earning a dead-ball personal foul.
"That was the backbreaker of the game," Jarrett said. "It started to open up more."
On the next possession, Booty needed four plays to take the Trojans 80 yards: a 26-yard fade to Steve Smith; a 29-yard jump ball on which Jarrett beat Trent and Barringer again; a 23-yard perfectly placed pass that tight end Fred Davis caught with his left hand; and a 7-yard scoring pass to Smith. The Trojans led 32-11 with 6:52 to play.
How big was the lead?
When USC got the ball back, it ran on first down.
"I felt like Texas Tech," Kiffin said. "It was kind of fun. [Michigan was] the No. 1 rush defense in the country for a reason. I was hoping it wouldn't come to that point."
In retrospect, should USC have abandoned the run sooner?
"I don't know that," Kiffin said. "They still are thinking we're trying to run the ball. We had play-action that was working because they were still honoring the run."
The Trojans, even without Jarrett, might be the preseason No. 1 next fall. Ten starters return on defense, as well as Booty and three starters on the offensive line. On the day that the Arizona Cardinals fired coach Dennis Green, it's noteworthy that Carroll said he would be back, too. He has made calls to friends in the NFL over the last month sounding them out about the Arizona job.
"No, there's no question" of his return, Carroll said. "I have no question."
On this New Year's Day, USC had only answers.
Ivan Maisel is a senior writer for ESPN.com. Send your questions and comments to Ivan at ivan.maisel@espn3.com.
The Rose Bowl, T-Shirts, More Money
... the Rose Bowl, T-shirts, more money! This is one of my favorite chants from the Spirit of Troy, the
USC
Trojan Marching Band (aka the Greatest Marching Band in the History of the Universe).
And now that the Rose Bowl has ended with a Trojan Victory, I will proceed to the Bookstore and purchase a Rose Bowl Champions T-shirt
and
sweatshirt.
Note that
USC
is now 3-0 in Rose Bowl Games that I have attended. 1996 against Northwestern, 2004 and 2007 against Michigan.
The Ticket Office should have made sure that I won the ticket lottery last year.
Friday, December 29, 2006
Co-Champs? We don't need no stinking Co-Champs!
During Cal's big win over Texas A&M in the
Holiday
Bowl, the announcers made numerous references to the
Pac
10's decision to name both Cal and
USC
Conference Co-Champions, even though the conference went to a full, round-robin, 9-game conference schedule this year that definitively crowns a champion. Why do I say "definitively"? Because no conference teams are skipped and there was a rule change a decade ago eliminating the possibility of a tie in college football. Therefore, you either win the conference, or you don't. There cannot be a two-way tie (although you could have a highly improbable 3-way tie).
Certainly, the school presidents who approved the 12 game season and 9 game conference schedule were more concerned about other issues. Namely, because numerous schools wanted to make sure they played in Southern California (at
USC
or at
Ucla
) at least once a year, to take advantage of the most fertile recruiting ground in the conference. Also, Stanford flat out refused to approve the 12 game season unless all the other member schools agreed on the 9 game conference slate.
Regardless of the motives behind the change, the
Pac
10 received many kudos around the college football world, including sportswriters and fans, for having a clear cut system to crown a conference champion. One particular proponent that I most remember is
ESPN's
Ivan

Maisel
during radio interviews and preseason articles. However, the conference leadership chose to take all this goodwill and flush it down the toilet by screwing up the easiest and most clear cut way to determine a conference champion.
Do I have a problem with sharing? Maybe. Am I being a hypocrite because
USC
was named co-champs in 2002 with
Wazzu
, even though
Wazzu
won head to head? Possibly. It should be noted that prior to 2006 there was good reason to name co-champs since one conference school was left off the schedule each year, thereby creating some doubt.
In this humble fan's opinion, naming co-champs this year speaks volumes about the gross
incompetence
of the leadership of the
Pac
10.
Tom Hansen should be fired
. The
Pac
10 has arguably the worst bowl tie-ins, the worst television contract, and an absolute lack of self promotion (see the Southeastern Conference if you want a definition of self-promotion). In addition, the
Pac
10 has bent over and taken the humiliation of
USC
(2003), Oregon (2001) and Washington (2000) being left out of the
BCS
National Championship Game, as well as Oregon (2005) and Cal (2004) being left out of the
BCS
all together. And don't get me started on how little backbone Tom Hansen showed during the Oklahoma/Oregon mess this year (telling
OU
to stop yer
whinin
', and threatening to sue if they tried to back out of their series contract with Washington would have been a good start).
Oregon St comes back to win Sun Bowl
Oregon St QB Matt Moore throws for 356 yards, 4
TD's
and 1 INT in the
2006 Sun Bowl
to beat Missouri by a score of 39-38.
After the trio of
dogmeat
Pac
10 teams (Oregon, Arizona St,
Ucla
) embarrassed the conference in their respective lower-tier, crappy bowl games, the
Pac
10's image has gotten a lift from Cal's dominating win in the Holiday Bowl and
OSU's
nail-biting victory in the Sun Bowl.
Now that the conference's better teams have won their upper-tier bowl games, and the conference's mediocre to barely-bowl-eligible teams have lost their crappy, lower-tier bowl games - what does this say about
USC's
chances in the Rose Bowl?
Absolutely nothing.
USC is Cal's Daddy
As
Cal's Daddy
, USC is proud of their little boy's win over Texas A&M (or ATM to you football message board members) in the Holiday Bowl.
It's nice to know that USC was too physical for Cal, and Cal was too physical for Texas A&M.
Ucla Embarrasses Themselves
So what else is new?
Let's review
Ucla's
stellar
bowl record under Radio ... uh, I mean Head Coach Karl
Dorrell
:
2006 Emerald Bowl: Florida St 44 -
Ucla
27
2005 Sun Bowl:

Ucla

50 - Northwestern 38
2004
Las
Vegas Bowl: Wyoming 24 -
Ucla
21
2003 Silicon Valley Classic: Fresno St 17 -
Ucla
9
(Note that bowl wins are in bold - I wanted to highlight
Ucla's
losses, but that would be too much bolding to do)
Two things to note about this data, (1) All of these games are crappy lower tier bowl games, and (2) None of the opposing teams in these games were any good that year.
Yet we still hear from Radio and
Ucla
homers that this program has turned the proverbial corner. Actually,
Ucla
has turned 3 corners and is right back where they started.
That's right Bruce Davis, hang your head in shame. You've earned it.
Wednesday, December 27, 2006
My Boy!!!
The Wife is now 7 months pregnant with My Boy!!! At the end of October he was photographed with the family jewels on full display. Of course I was proud of this shot. The first thought that came into my mind was "He must be having a
really
good dream". Unfortunately, this ultrasound revealed a possible problem of
placenta previa
, which would require a
Cesarean Section
. I kept referring to it as "Placenta Primavera" - which must be one
nasty
pasta dish.
Well, a week ago we had a second ultrasound. And although we have not gotten the official word from the Doctor, it looks like there will be no complications. Thank God. The Wife can have a natural childbirth and My Boy!!! will get to show what he is made of when he gets his chance to push his way out.
Pictures from the second ultrasound possibly show My Boy!!!'s confidence in being a complication-free pregnancy, considering that he seems to be giving the hand gesture that every thing is "Okay".
However, on closer inspection, it seems that he is a little pissed that we keep intruding on his privacy to capture shots of his dinky.
Not even born yet and he's already giving the finger. I am
sooooooo
proud (wiping a tear from my eye). They just grow up so fast these days.